16.08.2019
Higher machine availability and greater savings potential: Schmersal to present integrated safety solution at Motek 2019
Getting the combination right: Solenoid Interlock AZM400 plus Safety Fieldbox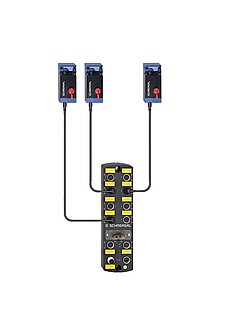 Wuppertal, Germany, 16. August 2019.
Motek 2019 in Stuttgart will see the Schmersal Group presenting an integrated safety solution which offers users optimum safety, greater machine availability and significant savings potential.
The solenoid interlock AZM400 has only been on the market a few years and since then has managed to demonstrate its varied range of potential uses. It impresses with its very high locking force of 10,000 newtons. Thanks to its dual-channel release signal, this solenoid interlock achieves PL e and SIL 3 safety performance levels for both its locking and interlock functions. Users can now connect several AZM400s to a PROFINET/PROFIsafe node in a safety circuit when combined with Schmersal's new Safety Fieldbox. This solution is considerably more cost-effective than equipping each individual interlock with a PROFINET interface.
Thanks to its universal device interface with an 8-pole M12 connector, the Safety Fieldbox can be used to connect an extensive variety of safety switchgears: safety interlocks, switches, sensors, light curtains and operation panels. When the Safety Fieldbox is used, safety interlocks of different types (electronic and electro-mechanical) require just one device connection. This solution brings a great advantage for users – highly simplified and, consequently, more cost-efficient wiring of safety switchgears. Moreover, there is no need for complex additional installations for controlling the interlock or reading diagnostic information.
An additional digital input on the Safety Fieldbox helps to ensure higher machine availability: the diagnostic signals from all connected safety switchgears – such as the AZM400 – are transmitted to the controller via this digital input. This provides users with status information for interlocks and error messages for evaluation, users receive a message telling them to readjust the door when it is misaligned, for example. Preventive maintenance measures can thus eliminate machine downtimes.
New accessory for the AZM400
Schmersal now offers the AZM400 with a new accessory: a lockout tag protects operating staff from being locked inside larger, walk-in systems and machines by mistake while they are performing servicing and repair work. To ensure protection, service personnel attach a padlock to the lockout tag when entering the hazard zone. This means the safety system door can no longer be closed and the machine is prevented from starting up unintentionally. The lockout tag is suitable for fitting inside and outside the hazard zone. Up to six padlocks can be attached to the lockout tag, meaning up to six people can enter the hazard zone at the same time.
Should an operator be accidentally trapped inside such a system, a Bowden cable can be used as an escape release mechanism. The Bowden cable acts as an emergency release when used outside the hazard zone. In the standard version, the pullcord measures a total of six metres in length with sheathing four metres in length, which means it can also be used as a safety device on large systems. Visit Schmersal at
Motek 2019
in Stuttgart, Germany, between 7 and 10 October –
Stand 7103, Hall 7