16.08.2018
Now online: Practical planning tool for designers
Schmersal presents the new PSC1 configurator at Motek 2018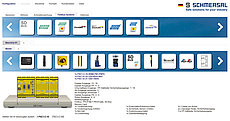 Wuppertal, Germany, 16 August 2018.
Schmersal will present a practical planning tool at the trade fair Motek 2018 in Stuttgart, Germany: Machine manufacturers and machine operators can now easily and quickly configure a safe control system for their systems according to their individual requirements - with the PSC1 configurator from Schmersal, a 7 x 24-hour online tool. The PSC1 Configurator is self-explanatory, easy to use, and provides a meaningful planning base for designers in just minutes. It is now available as a web version under this link:
www.psc1.de
.
The configurator is also convenient to use on iPads/touchpads using an iOS/Android app. Starting from a selection of safety sensors and safety outputs, this planning tool automatically chooses the optimum PSC1 safety control (by price) and also shows how much space the assembly needs on the DIN rail configured for each case. At the same time a parts list with article description, material number and details of the devices is generated. This parts list is linked with Schmersal's online catalogue so additional information on the devices can be accessed as required. The parts list can be stored in Excel or PDF format and sent directly to Schmersal by email to obtain a quote customised to the user.
Various fieldbus protocols available
The safety controller PROTECT PSC1 allows the adaptation of the safety functions to a wide variety of applications. Core components of this control system are freely programmable compact controllers (PSC1-C-10/100), for which IO expansion modules are available for the safe signal processing of mechanical and electronic safety switchgear. The compact controllers can be equipped with a universal communication interface. This enables the selection and implementation of different fieldbus protocols easily using software. The PSC1 therefore only requires one hardware element to create a connection to most common forms of fieldbus systems. The following field bus protocols can be selected in the PSC1 configurator: PROFINET, PROFINET PROFIsafe, EtherCAT, EtherCAT FSOE, Profibus, Profibus ProfiSafe and Ethernet IP. In addition, the user has an optional SD memory card available with which programs once created can be backed up. With this, for example, reprogramming is no longer necessary if the hardware is replaced. Also, planning a safety system for a further machine or a local automation concept is possible in the PSC1 configurator. The "topology" function shows in the configurator how the control systems of the two machines are linked together.
The PSC1 configurator is available in the following languages: German, English, French, Spanish, Italian, Portuguese, Japanese, Chinese. Visit Schmersal at Motek in Stuttgart, Germany, from 8 to 11/10/2018:
hall 7, stand 7103