21.01.2020
Schmersal Group establishes new branch in Turkey
International market leader offers high-quality products, systems and services for machine safety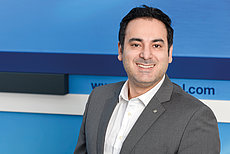 Wuppertal, 21 January 2020.
The Schmersal Group has founded a new branch in Turkey, which started business in January 2020: Schmersal Turkey Otomasyon Ürünleri ve Hizmetleri Ltd. Şti. is based in Istanbul. The Schmersal Group, an international market leader in machine safety, is thus further expanding its global presence. The company is represented by its own companies and sales partners in over 60 countries.
The new branch mainly supplies the Turkish and Azerbaijan markets with high-quality safety products and systems. "Thanks to the sales partnership with Satech Safety Technology, we can also offer our customers who safeguard their machines and systems with separating safety devices such as safety fences, complete systems from a single source," emphasizes Bariş Yücel, Managing Director of Schmersal Turkey.
The portfolio of the Istanbul branch is rounded off by comprehensive services from tec.nicum, the service division of Schmersal. This includes, for example, stop time measurements or risk assessments. The tec.nicum consists of a worldwide network with Functional Safety Engineers certified by TÜV Rheinland. With the opening of the new branch in Istanbul, the services of the international organization tec.nicum can now also be accessed easily and conveniently in Turkey.
"Schmersal is already a well-known and recognized quality manufacturer on the Turkish market," explains Bariş Yücel. "However, our goal is to become the preferred supplier and the first choice for safety-related products and services for our customers. I am convinced that we will achieve this goal by offering a combination of safety expertise, well-organized service quality and high-quality products and systems. "
The contact details of the new Schmersal branch in Turkey:
Schmersal Turkey Otomasyon Ürünleri ve Hizmetleri Ltd. Şti.
Ataturk Mah. Atasehir Bulvarı No: 5
Gardenya Plaza 5 Kat: 2 Daire: 2
Atasehir / Istanbul / Turkey
Email: info-tr@schmersal.com
Phone: +90 534 033 33 96
www.schmersal.com.tr