20.09.2019
Schmersal launches first ex-proof RFID safety sensor
EX-RSS16 can be used in gas zone 2 and dust zone 22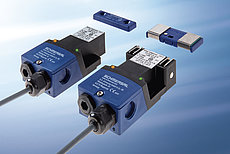 Wuppertal, 20 September 2019.
At Motek 2019, the Schmersal Group is showcasing the first RFID-based safety sensor which has been designed in accordance with ATEX Directive 2014/34/EU and can be used in EX zones 2 (gas EX, category 3G) and 22 (dust EX, category 3D). This means that the EX-RSS16 combines two important properties for system safety: functional safety in accordance with ISO 13849 and explosion protection. At the same time, the sensor features ignition protection classes Ex ec and Ex tc, covering the explosion protection function without requiring another energy-limiting device. Schmersal launched this new development this year.
The wear-free safety sensor is perfect for position monitoring of various kinds of safety equipment, including the monitoring of doors, position monitoring of machine axles or other rotating, lateral shifting or removable safety equipment. Three different actuation directions also allow a flexible choice of installation position.
The EX-RSS16 is available with or without latching. For example, the variant with a magnetic latching ensures that a door is held closed even when there is no voltage.
Because of the built-in RFID technology, the EX-RSS16 enables individually coded variants with a coding level of high in accordance with ISO 14119, thus offering excellent tamper protection. The EX-RSS16 safety sensors have an optional diagnostic output or SD interface (Serial Diagnostics). Up to 31 safety switchgear devices with serial diagnostics can be connected in series. This means that the diagnostics data from the individual devices connected in series can be transferred via the SD gateway and a fieldbus (e.g. PROFIBUS) to a controller, e.g. status data or error messages. This means problems can be resolved more quickly. Advanced diagnostics data supports predictive maintenance and helps prevent machine downtime. Control commands can be issued by the PLC to the devices connected in series. "The new EX version for gas and dust applications considerably extends the potential applications of the RFID safety sensor, which is already in strong demand because of its performance and cost-effectiveness," explains Marlies Gerstkämper-Oevermann, Product Manager at the Schmersal Group. "The EX-RSS16 is suitable for many industrial areas in which the requirements of explosion protection apply." Visit Schmersal at
Motek 2019
in Stuttgart between 7 and 10 October –
Stand 7103, Hall 7